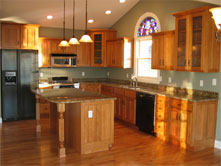 Kraft Homes' dedication to innovation, quality and teamwork has helped us to quickly evolve into one of the leading custom home builders in the East Central Illinois area. Company owner, Eric Kraft took an interest in building as a sophomore in high school, when he successfully restored his family's 1860 farmhouse. Today, after purchasing and remodeling a variety of his own homes alongside more than 20 years of homebuilding experience, Eric's passion has become his profession.
At Kraft Homes, we are passionate about bringing people's dream homes to life. Eric has the patience necessary to intently listen to the customer's needs, the respect to communicate them to the team, the leadership to correctly execute the plan and the integrity to build it on time and within budget. Our customers come to us with varying levels of preparation. While some bring a mere sketch on a napkin,others come equipped with plans from architects. Either way, we have our own draftsmen who can visualize your ideas and transform them into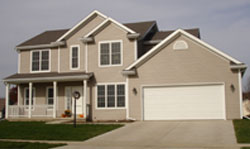 comprehensive design plans. As a Kraft Homes client, you have the option of choosing from one of our many standard plans, modifying one of the hundreds we have already built or starting completely from scratch. Above all else, we focus on building your home with the three pillars we have built the Kraft Homes business on:
Innovation: is constantly looking for a better set of processes. It's about custom building a home around the way you want to live and integrating today's technology in the process.
Quality: Eric quickly learned that by using quality products, you attract and retain quality craftsmen. The combination of quality products and quality workmanship builds a high quality home.
Teamwork: Once you get a 'team' of quality craftsmen together, they want the same thing you want; the satisfaction of a quality home built with pride and integrity… a win win!
As members of the Home Builders Association of East Central Illinois, the Quality Assurance Program and the Energy Star program, you can rest assured knowing we have the commitment to quality craftsmanship and superior customer service that you expect in a homebuilder. At Kraft Homes, our goal is to give you a beautiful custom home alongside a pleasant overall experience which exceeds all of your expectations.Let the innovation, quality, and teamwork of a personally built Kraft Home be the pillars you build your next home on.